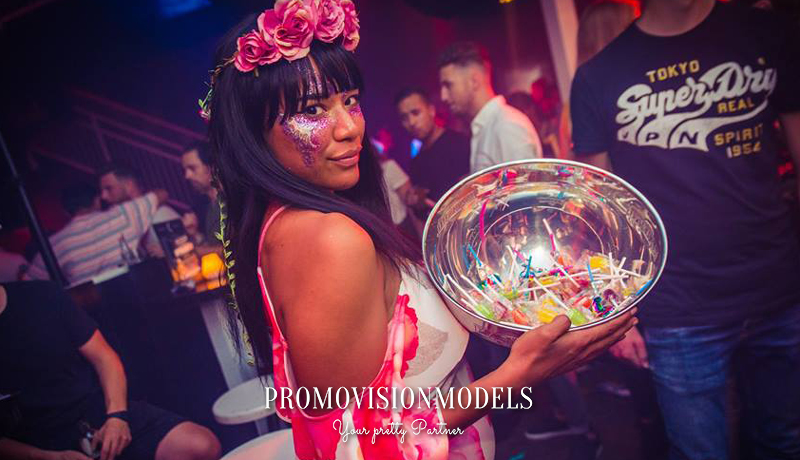 Candy girls are spontaneous models who treat visitors with delicious candy during events. Due to their eye-catching and colourful costumes, the candy girls are eye-candy for the public. The client can choose what delicacies the candy girls will hand out. These can be marshmallows, ice popsicles, gum balls, sweet fruit, or even small pastries. We can easily adjust the candy girls to your concept and wishes.
The girls' outstanding costumes draw a lot of attention of the public. Taking pictures with the public is something that the girls are often asked to do. If you want to combine our candy girls with sponsor advertisement for example, we can provide you with a photographer who will make pictures of the girls with the public. This way, people can take pictures which will have your logo on them and take them home.
Pepernoot girls
PromoVisionModels noticed that many businesses are caught between two stools when it comes to the "Black Pete" discussion. They fear to make a choice that will reflect badly on them. This is why PromoVisionModels thought of a solution for this issue. Instead of having to choose between the Black Pete (Zwarte Piet), Root-Face Pete (Roetveeg Piet) and Rainbow Pete (Regenboog Piet), PromoVisionModels offers a different alternative. Namely, the Pepernoot Girls! The princesses in Pete-dresses hand out all kinds of Dutch Candy to the people visiting your company, party, shopping mall or any other event. The Pepernoot Girls want to give everybody the opportunity to celebrate the Dutch tradition of Sinterklaas. Our Pepernoot Girls provide the opportunity of making this a holiday for everyone. Do you want to book the Pepernoot Girls? That is possible! Contact us here.