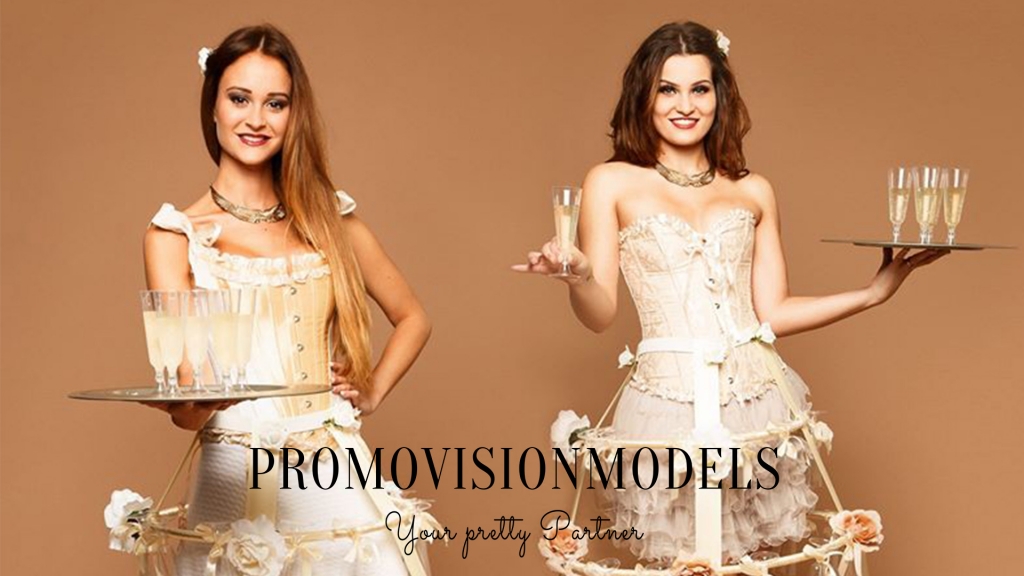 Are you organizing or planning an amazing and stylish event? The champagne girls by PromoVisionModels are vital to the success of your party! Our champagne girls will make your guests feel welcome by receiving your guests with a delicious glass of champagne.
Champagne girls
Our models embody luxury and glamour. Outfits can be customized according to the clients wishes of theme. The Champagne girls can be dressed in a beautiful gown, a classy suit or any other client-chosen outfit. At PromoVisionModels, we think it is important for our champagne girls to perfectly blend in with your concept.Therefore, our team can arrange the styling and accessories of the champagne girls in details.
How may we serve you?
PromoVisionModels can provide you with our own champagne or cocktail concept. With this concept you have a self supporting walking bar, including ice buckets, additional ingredients for cocktails and of course the liquor the make your own Gin and Tonic or Mimosa. In addition, we can also provide your event with a champagne bar or tower. The champagne girls are a beautiful addition to the champagne bar. As an extra, the girls walk around, mingle with your guests and refill their glasses. Your customers will be spoiled by our classy and stylish girls. Do you prefer to hire gentlemen rather than ladies? We also have male hosts who can serve champagne.
Snacks
Would you like to spoil your guests with snacks such as nuts, toasts, olives or candy? PromoVisionModels offers different concepts, for that reason we have designed special dresses to hold snacks. This way, your guests will be satisfied and entertained in an original way.
Book a champagne girl
Welcome your guests in a unique way with our champagne girls! You are always free to contact us to discuss a concept that suits your wishes or if you have any other questions.
Pictures by PromoVisionModels