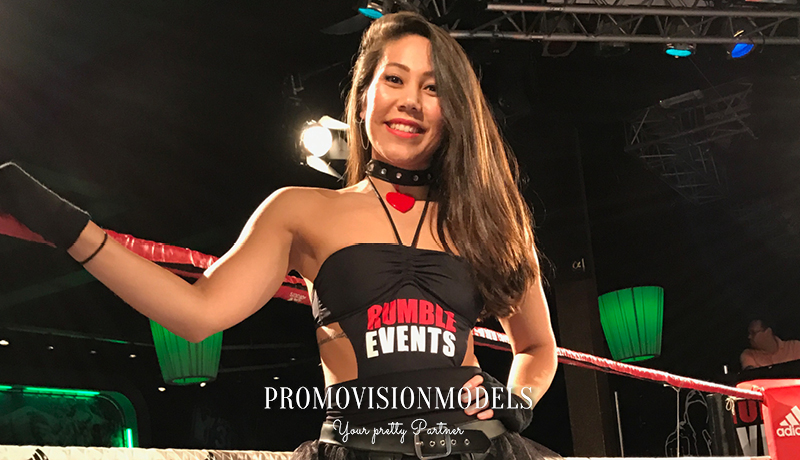 In the Netherlands, round-card girls are used in many sports. Boxing, wrestling and cycling for example. In the different sports, the girls have a variety of tasks. Round misses do have common characteristics: they are all very beautiful, smiling, and radiating with energy.
A ring girl is the name for a girl who, in martial arts, enters the ring carrying a sign to signal the next round.
Ring girls
In professional boxing and wrestling, the round misses are also called ring girls. The ring girls make sure to take the boxer's or wrestler's clothes (such as jackets, robes, and other clothing). Additionally, the girls carry the champion's belt that the wrestler or boxer takes off before his match.
Between the matches, the ladies walk through the ring with a sign to show the round count to the public. In contrast to the round misses in cycling, the ring girls are dressed way more sexy and provocative in order to accentuate their female curves and body shape to gain the public's attention. In addition, the ring girls are very confident and well-spoken.
Round miss cycling
The round miss plays a big role in the cycle sport. She is present at the award ceremony and hands over the jersey to the winner. She is the face of the organization and therefore will look well-kept, social and professional. Her tasks also include giving two or three kisses and handing out flowers and/ or a stuffed animal to the winner.
The round miss her presence is required in the VIP-area. In this area, she is the hostess and the face of the organization. PromoVisionModels thus thinks it is important for the round girl to have affinity with the cycle sport in order to be able to answer all of the questions in a professional manner.
Contact
By now you know that PromoVisionModels is familiar with both of the round misses previously discussed. If you are looking for a round miss for boxing, cycling or anything else, you can contact us without any obligations.