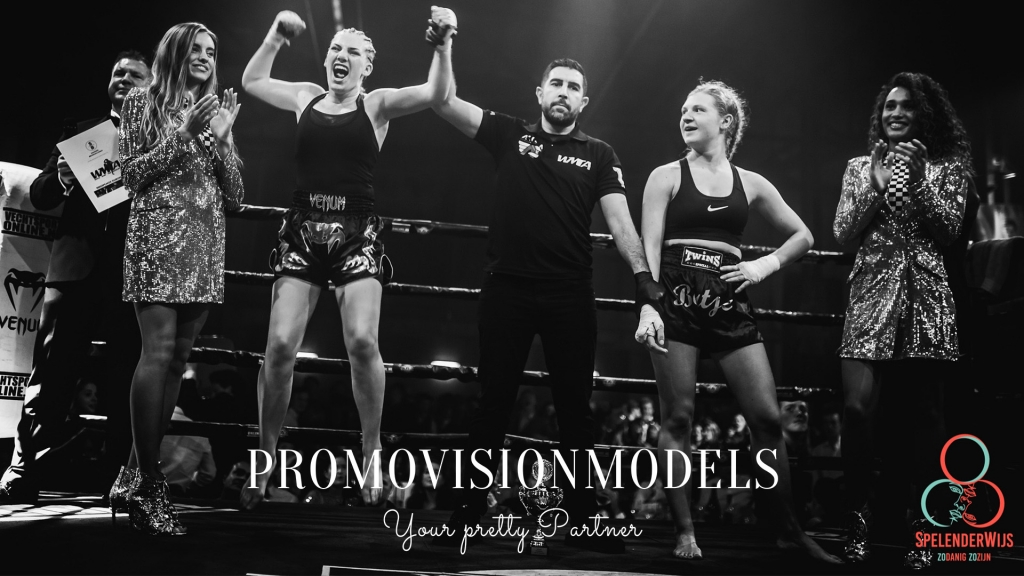 In the Netherlands, round-card girls can be seen in many different sports events, such as boxing, kickboxing, wrestling and cycling. To really get your event remembered, book our ring-card girls to add a touch of glamour to the entertainment.
Looking for ring girls?
In professional boxing and wrestling, the round misses are also called ring girls. A ring girl is the model who enters the ring carrying a sign to signal the next round. Ring girls entertain your audience for their 1 minute intervals in-between rounds. Our PromoVisionModels can do a lot with 1 minute, and they will use the time to its full potential to score extra points with the crowd. Our ring girl models will also make sure to take each boxer's or wrestler's clothes in the ring (such as jackets and robes). Additionally, the round card models can also carry out the prices in the end of the match.
Clothing for the ring girls will be selected by our styling team, according to the event and clients wishes. At PromoVisionModels we can also create custom-made branded outfits with your own logo to maximize your advertising potential. Apart from covering your advertising needs by wearing your branded outfits and company logos, our stunners will also create a buzz of excitement at your event like no one else can. Whether it's boxing, kickboxing, wrestling or any other sporting event, with their smile, confidence and energy, they are sure to keep the crowd enthusiastic.
Podium girls for cycling events
The podium girls play a big role in the cycling sport world. They are the ambassadors of the organization who are present at the award ceremony, to hand over the jersey and flowers to the winner of the cycling event.
Next to our podium girls they can also work as hostesses in the VIP-area, serving drinks, and snacks to clients and VIP's at the event. The PromoVisionModels podium girls are selected based on their knowledge and affinity with the cycling sport. They must also asses qualities such as language skills and professional experience. Making our podium girls the best choice for your cycling event.
Walk-on Girls
Walk-on girls are very famous at professional darts. The models escort the players to the stage at darts events. Our PromoVisionModels walk-on girls know how to pose and present their self on stage. The walk-on girls are dressed in beautiful dresses, walk around the event with confidence and a gorgeous smile.
Contact us to book your round miss
Add an edge of glamour and personalized advertisement. Whether it's for boxing, cycling, darts or any other sport event, make sure your event is complete with our round miss. Please feel free to contact us without any obligations.
Pictures by StappenGroningen and PromoVisionModels