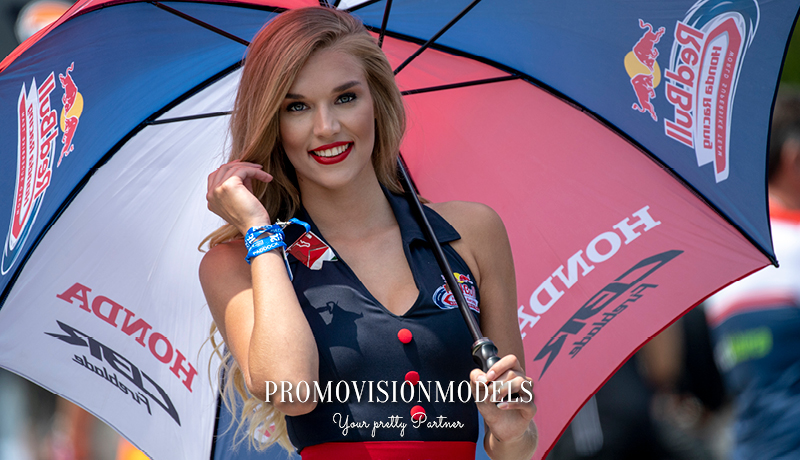 Grid girls are models posing on the pit lane, paddock or on the race track during racing events. These girls are also called "Paddock Girls." First, the grid girls were mainly employed in the professional motor sport. Today, however, the grid girls are employed in the auto sport as well. Sometimes, the grid girls' task is to wave a flag to signal the start of a race. Grid girls promote brands by wearing branded clothing that are customized and supplied by PromoVisionModels. PromoVisionModels provides girls who not only look stunning but also possess social skills. Characteristic for our grid girls are their big smiles and sexy curves.
Umbrella Girls
Grid girls are often called umbrella girls. This is due to the fact that these girls often hold an umbrella when posing next to racers. They do this to shield the driver from sun and rain.
Paddock Girls
Paddock girls are always to be found on the track. Usually, the models promote sponsors of different racing teams. The girls draw attention by wearing catsuits or other tight-fitting and provocative clothing. The public often likes to take pictures with the models. This draws attention to the brand in question.
PromoVisionModels has years of experience in providing grid girls for national, as well as international racing circuits. TT Assen, Zandvoort, Sachsenring, Le Mans are all well-known to us. Are you looking for grid girls, paddock girls or umbrella girls? Get in touch with us without any obligations to discuss your desires.
Picture by Otto Moretti