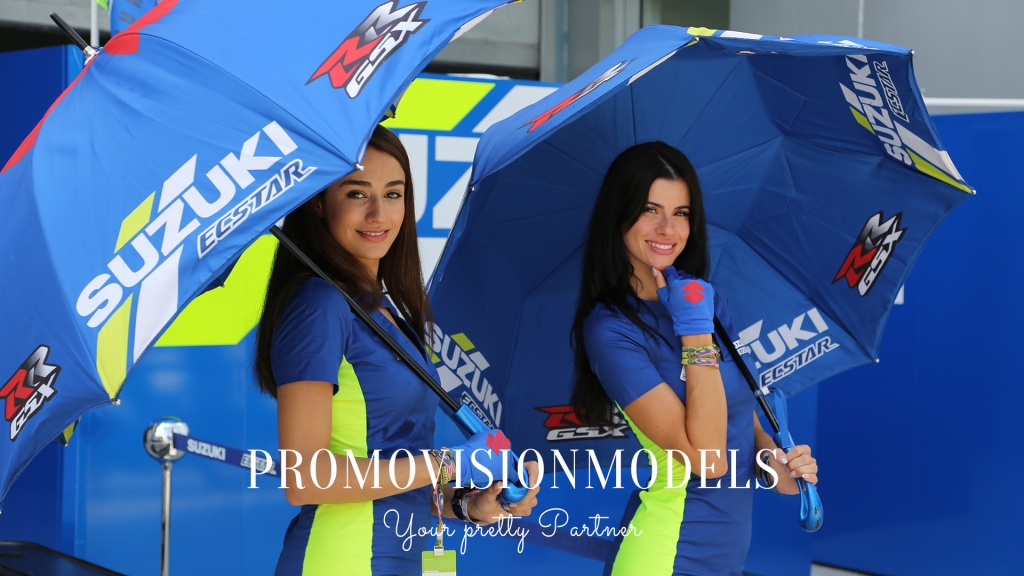 PromoVisionModels is specialized in providing Grid Girls worldwide. Grid girls are models posing on the pit lane, paddock or on the race track during racing events. With over 13 years of experience, PromoVisionModels is one of the biggest agencies providing Grid Girls for MotoGP and WorldSuperBike worldwide in over 13 countries.
Umbrella Girls
Grid Girls are also known as 'Umbrella Girls'. They are well-known in the professional motor sport. When you are selecting Umbrella Girls for a race or sport event, you will need models who are beautiful, but also possess social skills to promote your brand or race team. Many of our grid girls can also speak multiple languages and can therefore communicate well with the visitors at the race.Our GridGirls are well-known on the paddocks all over the world. The PromoVisionModels Umbrella Girls are extremely well trained to follow instructions and good looking enough to catch the press attention.
Paddock girls can also be found on the race track. The models often promote sponsors of the different racing teams. Their tasks include waving a flag to signal the start of a race.  The grid girls draw attention by wearing catsuits or other tight-fitting and provocative clothing. The public often loves to take pictures with the models. This draws attention to the brand in question.
Custom-made Outfits
To fully promote your brand or race team, it is essential to have the right clothing and branding. The Grid Girls can promote brands by wearing custom-made outfits made exclusively at the headquarters of PromoVisionModels in the Netherlands. From catsuits, to dresses, shoes and umbrella's, we can provide you with all items the grid girls will need to stand out at the race.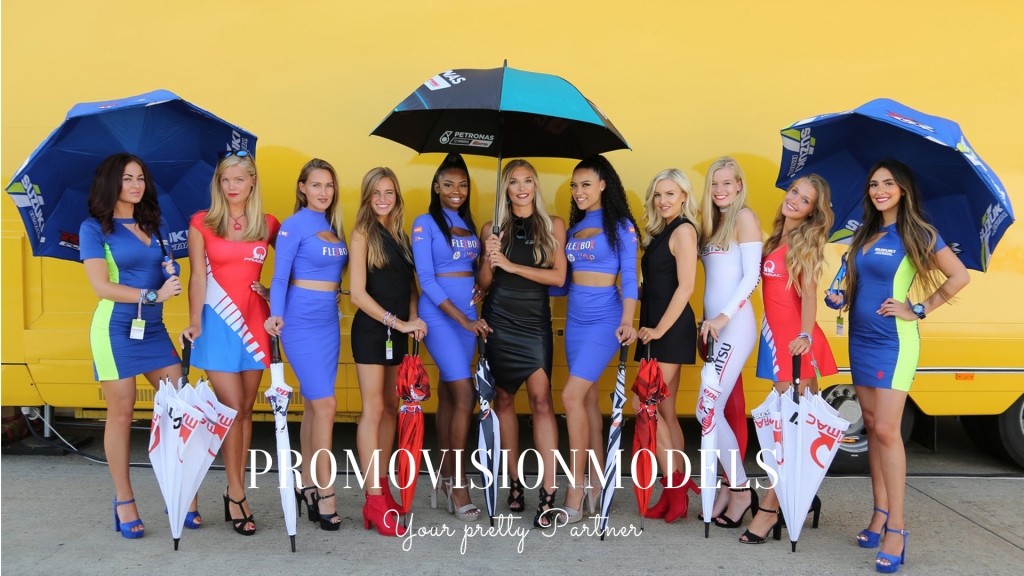 VIP Hostesses
PromoVisionModels has years of experience in providing VIP-Hostesses for the race team hospitality area and circuit VIP lounges. The VIP host and hostesses of PromoVisionModels are excellent at their job. You can distinguish them by their professionalism, experience and wide knowledge. Click here to read more about our VIP- Hostesses.
Get in touch
PromoVisionModels has years of experience in providing grid girls for national, as well as international racing circuits. From TT Assen, Sachsenring, Le Mans or to the Termas Rio Hondo in Argentina or Twin Ring Motegi in Japan, are all well-known to us. If you are looking for a true professional within the sports industry, feel free to reach out to us without any obligations.
Pictures by PromoVisionModels