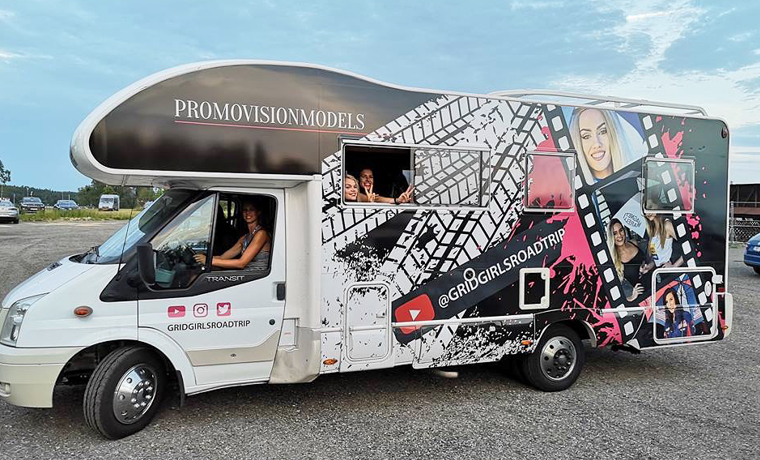 In 2018, there has been a lot of commotion around the concept of "Grid Girls." This was mainly caused by the abolition of grid girls within Formule 1.
The PromoVisionGridgirls
For many years PromoVisionModels has put grid girls to work during the MotoGP- and World Superbike races. Every season, the MotoGP and the World Superbike are events which the bureau itself as well as the grid girls look forward to. The PVM grid girls work with pleasure for different race teams.
RTL Late Night
On the 31st of January 2018, PromoVisionModels was a guest at RTL Late Night to discuss the abolition of the grid girls at Formule 1 and to bring to light what the job tasks of the grid girls are. There is nobody better to tell this than a grid girl herself. Thus, three girls were present who all work for PromoVisionModels as grid girls during the MotoGP and World Superbike Races. Superbike races.
Grid Girls Roadtrip on Social Media
After the RTL Late Night broadcast, PromoVisionModels got the idea to start a youtube channel to provide an insight to the world of grid girls. On the youtube channel, episodes of each trip of the grid girls to the circuit will be uploaded. The trips abroad never turn out to be completely flawless. Therefore, besides being interesting, the episodes are very entertaining as well. Did we get your attention?
It is not everything! Under the same name, we opened an instagram account were you get to follow us "live" and join in on the adventures and experiences of the grid girls. On this account, pictures. videos and the popular "insta stories" will be uploaded. This way, you will not miss anything!
Contact
Are you looking for a grid girl or are you in need of a promotional model for a different cause? Do not hesitate to contact us without any obligations!
Foto: Otto Morreti