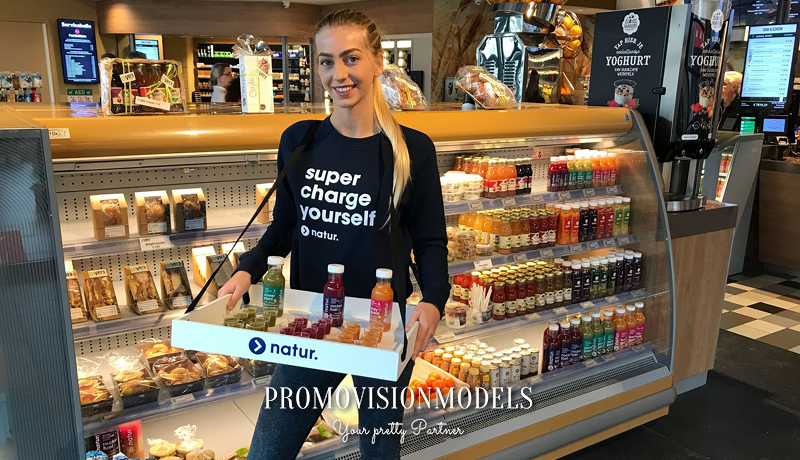 Smelling, tasting, feeling, and trying: the power behind sales. The PromoVisionModels sampling teams (also referred to as tasting teams) consist of male and female promotion models who can reach out to your public and convince them of the quality of your product. The promotion models will possess all relevant knowledge of your product beforehand. They will clearly inform the consumer and will above all try for them to have a positive experience with your product.
Location
PromoVisionModels has years of experience in providing sampling or tasting teams. Because of this, we are capable of helping you pick the best location to put your product on the map. The sampling of a healthy drink needs a different location than, for example, a candy. One could think of sport clubs, fairs, race tracks, petrol stations, parking lots, train stations, festivals, or shopping centers. Every location offers a unique possibility.
Target
The promotion models know everything they need to know about the product of interest beforehand. They know what type of public you are trying to reach, which allows them to sample in an efficient way. A product specifically targeting men will be sampled accordingly. Are mostly women passing by at a quieter time? The sampling team can, by making use of their excellent conversational skills, still hand out samples for a lady's husband or son to try out. One thing is certain, sampling works for every target group: young and old, male and female.
Results
Someone receiving a product from one of our promotion models will often have an opinion about it. Customers are stimulated to express their positive as well as negative opinions. They might even come with ideas, which for you, as a company, is incredibly valuable information.
The findings and data will always be gathered and reported back to the client. Based on this feedback, the client can choose to make adaptations to the product. This will benefit the sales and the overall customer satisfaction in the long term.
We share our results real-time, this means that you have the possibility of keeping track of the results online during the day. As soon as a location is visited, this will be processed, and you can immediately see for yourself how things are looking!
Contact
Are you looking for a sampling team? PromoVisionModels can help you with this! We are capable of offering you a full concept, including make-up and styling. We want the product to be presented in a convincing manner, which is why out sampling team will hand out your products in stunning outfits. Feel free to contact us, without any obligations, to discuss the possibilities.