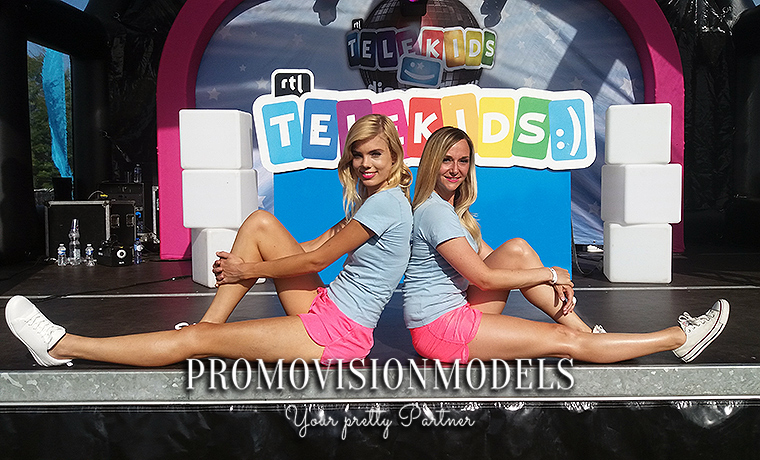 PromoVisionModels and Telekids have been working together for many years now. PromoVisionModels arranges exclusive promo girls especially for Telekids Disco show. The promo girls make it all possible for the kids to have an unforgettable day. PromoVisionModels takes care of the team, of their clothes, takes pictures while performing and of course entertain the kids. In a few words, many different activities take place in the show!
Telekids Discoshow
The Telekids Discoshow is a 3 hour long show. The show is accompanied by an enthusiastic DJ and our promo team. Games are being played during the show, there are some crazy and fun dances and you could also win Telekids-goodies. The kickoff of Telekids Discoshow began in 2013. After this hundreds of Discoshows were organized, like in: Ede, Dokkum, Meppel, Speelland Beekse Bergen, in the Preston Palace in Almelo, Groningen and lot's more. Our promo team supported Telekids at all of the shows! Singing, jumping and dancing belonged to the Telekids Discoshow. The promo girls make it all possible for the kids to have fun and have an unforgettable afternoon experience.
New Year's Dive
Every year on January Telekids organize a special Discoshow. This takes place in a swimming pool. Our promo team goes with the kids into the water for a New Year's dive, what a better way to open the New Year than with Telekids Discoshow! The New Year's Dive is a frequent event and the promo team from PromoVisionModels is always there together with the kids dancing and doing crazy fun stuff! And that's how we start each year with a party!
Mega Blubber Power Race
In 1996 said Telekids goodbye to Mega Blubber Power Race, but in the summer of 2015 was the Mega Blubber Power Race back on 4 different locations, like Groningen, Eindhoven, Amsterdam and Apeldoorn! This is a free event and everyone is welcome! De Mega Stormbaan, De Grot de 1000 Schatten and of course Harry de Hengst, Mega Blubber Power Race all made their comeback on this event, powered by SiSi! Our promoters were handing out cold SiSi and were ready to answer any question!
Contact
Are you looking for dancers, hostess, models or a promo team? Find your pretty partner at PromoVisionModels. Feel free to contact us and discuss all possibilities!