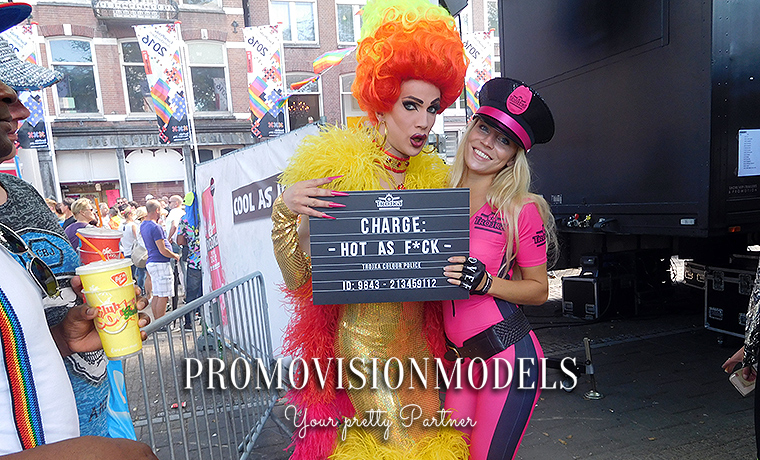 7 AUGUST 2016 | The Trojka promotion team made the Gay Pride in Amsterdam on Saturday August 6th (un)safe with the Trojka Colourpolice. During the Amstelstage Euro Pride Street Party, organized by Amstel Fifty Four, our beautiful ladies and loved gentleman made photo's with the partying crowd and sold the well-known Trojka Pink mix beverage.
Every year the Gay Pride in Amsterdam is a great festival in which everyone comes together to celebrate love. Old and young, tall and short, people gather from far and wide in Amsterdam to collectively show support for forbearance and against discrimination. As every year, many events are organized around the Canal Parade. During this year's edition it was an extra bustling party at the Amstelstage, not only because of the amazing presenting by drag queen Ivana and the big performances by top artists like Luv, The G Team and Mai Tai, but definitely also by the appearance of the Trojka Colourpolice.
The focus of the Trojka promotion at Euro Pride laid on the Trojka Pink mix, a mix based on Vodka with a sweet taste of strawberry and cranberry. With the help of our experienced sales team, the cans of Trojka pink sold like hot cakes. Apart from active sales, the Trojka Colourpolice handed out goodies and made photo's with the visitors. The promotion from Trojka was very successful. Trojka Pink was in great demand. Visitors reacted very enthusiastically and also afterwards many Trojka Colourpolice mugshots could be found on social media.