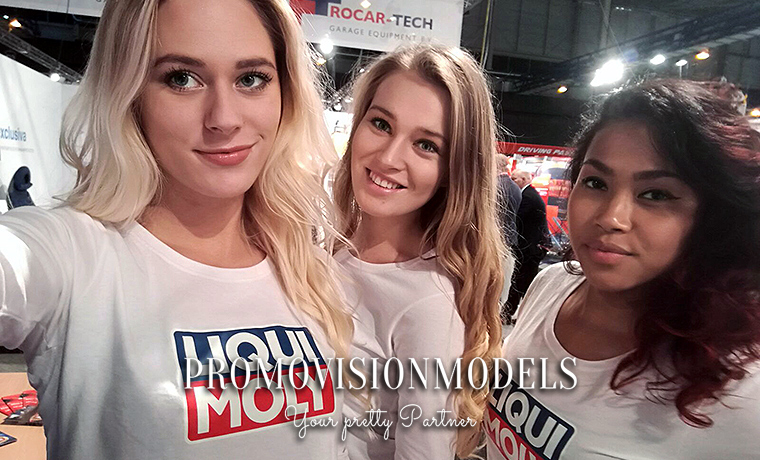 15 FEBRUARY 2017 | PromoVisionModels provided the hostesses for Liqui-Moly on Auto Prof Gorinchem 2017. The hostesses made sure to generate more traffic to the stand and brought visitors into contact with the salesmen of Liqui-Moly.
AUTO PROF GORINCHEM 2017
From February 7 through 9, the biggest automotive and damage repair branch event, Auto Prof, took place in Evenementenhal Gorinchem. This fair is the exquisite opportunity for manufacturers, importers, wholesalers, and suppliers to present their products and services to the professional public. Thousands of professionals with power of decision from the West, Middle, and South of the Netherlands come to Auto Prof annually to gain knowledge about the newest products and solutions in the field. The event is eminently the ultimate moment to lay the foundation for new collaborations.
LIQUI-MOLY
Oil-manufacturer Liqui-Moly has been a well-known exhibitor at Auto Prof fairs throughout the years. Apart from supplying oils and additives, the manufacturer also supplies additional services. By continually introducing sales stimulating, innovative high-tech products, Liqui-Moly supports her clients passionately. With the complete assortment, Liqui-Moly offers free advertising, information and decoration material to help clients with their business and activities.
GENERATING TRAFFIC
Liqui-Moly likes to act on the chances Auto Prof offers in gaining useful contacts with high efficiency. The stakes are high and thus it is important that the outing of the company at the fair, is as best as can be. Liqui-Moly asked PromoVisionModels to help in generating traffic to her stand. By having three enthusiastic hostesses approach visitors and actively hand out calendars and other goodies, PromoVisionModels made sure that Liqui-Moly's stand was busy with guests. The models linked useful conversations to the account managers and in this way provided great efficiency for Liqui-Moly. Are you curious as to what PromoVisionModels can do for your company? Contact us and find out how you can make your event a great success!