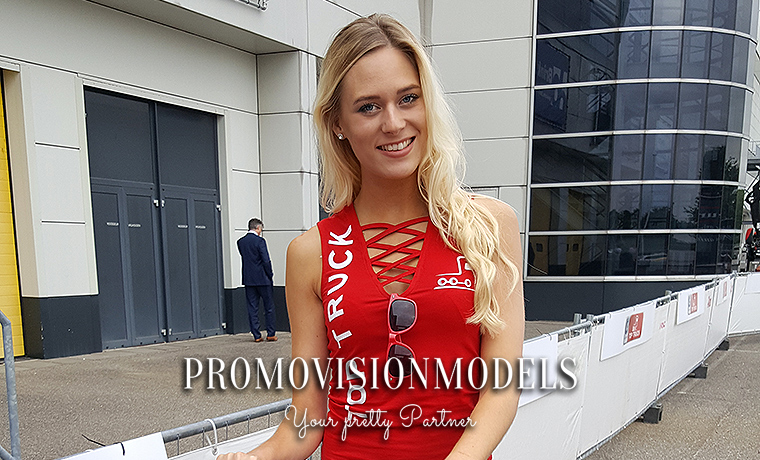 9 SEPTEMBER 2016 | Transport Compleet took place in the Evenementenhal of Gorinchem from 6 through 8 September. PromoVisionModels represented a number of large companies with a couple of enthusiastic hostesses.
Eurol
The leading Dutch company in products like motor oil, brake fluid, coolant and much more, Eurol obviously could not be absent on this fair for professionals in the transport section. The fleet is the major capital of a transporting business and therefore it is important to prevent damage and failure and use high quality fluids and oils. Because changing the oil can bring some dirt with it, the visitors could win Eurol coveralls at the Transport Compleet fair in Gorinchem. PromoVisionModels delivered a proactive hostess, to enthusiastically approach all visitors to join on the lottery.
Braem
Transport Compleet Gorinchem attracts a lot of non-Dutch companies, including Braem. This originally Belgian company, now also trades in the Netherlands in used trucks and parts. PromoVisionModels assisted this company by providing a cheerful hostess for addressing and filtering potential customers and hand out promotion materials. Doing this Braem made sure to have brand awareness among its target audience.
TopTruck
With maintenance, repair and inspection as important aspect in the transport section, TopTruck was without doubt an important player at the Transport Compleet fair. The Dakar fans got a treat and had their photo taken with a truck and two beautiful ladies of PromoVisionModels. Every visitor that took a picture, was handed a lottery ticket of the TopTruck lottery. At the end of the night the hostesses assisted with the announcement of the winners and awarding the prizes.
Is your company presenting on a fair soon and do you want to stand out amongst all the other exhibitioners? Contact us. We are happy to brainstorm with you about what we can do for you.