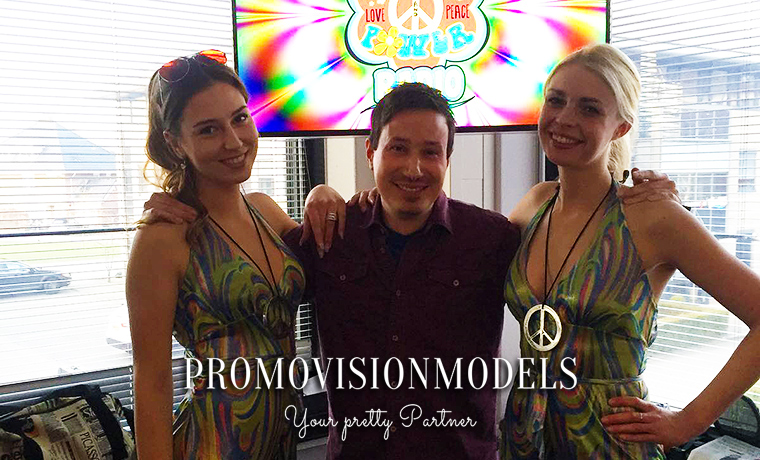 1 APRIL 2016 | No, it's not an April Fools joke. Today the new Flower Power radiostation, Flower Power Radio, by Radio Veronica was launched.
Flower power-era
Boudewijn de Groot, famous Dutch singer and Flower Power-enthusiast, launced the new theme radio by Radio Veronica. Boudewijn entertained the visitors with an hour of his favourite Flower Power songs. As the name already implies, the new station is focussed fully on Flower Power music from the 60's and 70's.
Flower Power is back and trending again. Just consider the many successful Flower Power themed parties. Thanks to Radio Veronica's Flower Power Radio, the listener can enjoy the love, peace and happiness of the old days.
Vip-hostesses
PromoVisionModels provided two VIP-hostesses in Flower Power style for this joyful event. The models welcomed guests and assisted at the pressmoment with Boudewijn and Veronica Dj Erik. The ladies took personal care that all guests were provided with a nice glass of champaign for the exciting moment of the official launch of the new radio station.
Are you looking for VIP-hostesses for your own event? Do not hesitate to contact us. We will not only provide models for you, but we will also take care of the styling if needed. With our vast assortment of theme clothes and costumes, you are sure of styling that fits in with your event. Would you rather have styling printed with your logo? That is no problem! Contact us for the possibilities.