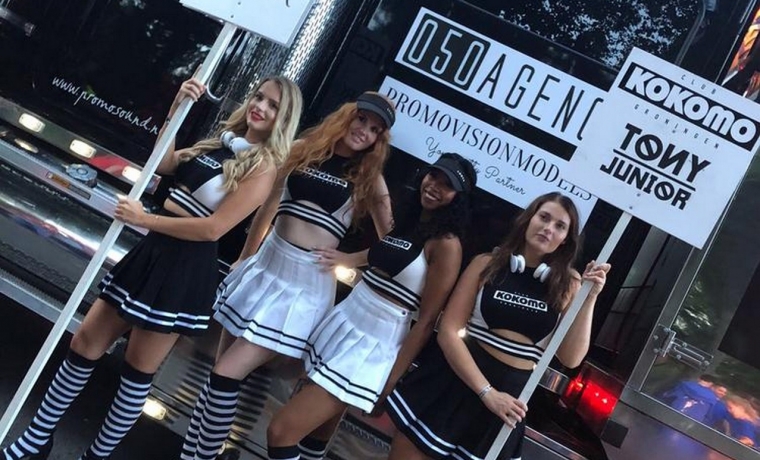 Every year an introduction week is organized for first-year students in Groningen to discover all aspects of the life of a student. In 2018 the keiweek takes place from Monday the 13th of August to Friday the 17th.
Monday, August 13th
PromoVisionModels has been cooperating successfully with Club Kokomo in Groningen for a long time, so the keiweek is also a busy week for PVM. Where during the day activities can be done outside and inside the city, the party moves to Club Kokomo at the end of the day where it continues until the early hours. PVM uses dancers during the keiweek to amuse the party students.
Tuesday, August 14th
During the kei parade, all student associations present their self-decorated vehicles. Also Kokomo presented their car with the PVM dancers who made the picture complete.
In the evening, our PVM dancers were back to party at Club Kokomo. To fill the club, PVM also used promoters that promised every student a welcome shot when they entered the club.
Wednesday, August 15th
The Wednesday evening is THE evening for the clubs in the city center, all kei students could take part in the pub crawl to discover the best places to go out. Club Kokomo took extra advantage of this evening by using the promoters on the street to get people into the club, to let candy girls go around the club to provide everyone with ice creams or other sweets and of course the beautiful dancers to dance the roof off. The proppers, candy girls and dancers are provided by PromoVisionModels.
Thursday, August 16th
On Thursday evening every kei-student could watch an open air movie on the vismarkt in Groningen. While everyone relaxed during the film, the PVM models were ready to promote, dance or distribute candy. The party with theme Neon party was a huge success!
Friday, August 17th
Friday, August 17 was the big finale of the kei week. At the beginning of the night there was a big party in Kardinge, Groningen. After this party, all party people in Club Kokomo were met by the PVM proppers, candy girls and dancers. Because the introduction week had to end with a bang, our promotional models gave everything they had, which had a positive influence on the atmosphere in Club Kokomo.
Contact
Are you curious about what PromoVisionModels can do for your company? Then please contact us now to discuss the possibilities!