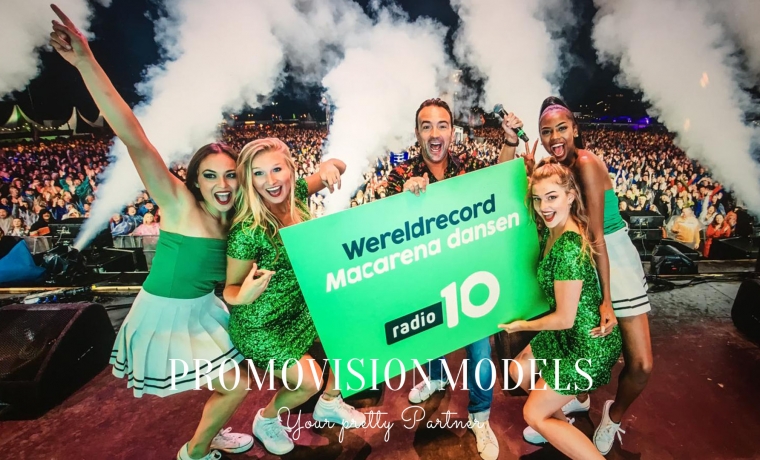 Radio 10 DJ Gerard Ekdom broke the world record for the biggest Macarena dance during the Celebrate the 90's festival in September. Together with our 4 models on stage, around eight thousand people danced the Macarena in Scheveningen, the Netherlands.
Celebrate the 90's festival Radio 10
Together with nearly 8000 visitors, Gerard and Promovisionmodels danced the 90s hit of Los del Rio for three minutes long. The DJ managed to successfully break the previous record in England where 2219 people participated to dance the Macarena. The record attempt coincided with the kick-off of the voting period for the 90's Top 110, a list with the biggest hits from the 90s that will be broadcasted on Radio 10.
Work Tasks
During the event our models graced the stage with their dance moves. They knew how to keep the crowd excited to beat the Macarena world record. Styling from the models were carefully selected by the Promovisionmodels styling team. Each item was chosen accordingly to fit the theme, colors and spontaneity of the event.
Contact
Are you also curious how we can assist you in your next promotion or event? If so, feel free to contact PromoVisionModels to discuss all possibilities.