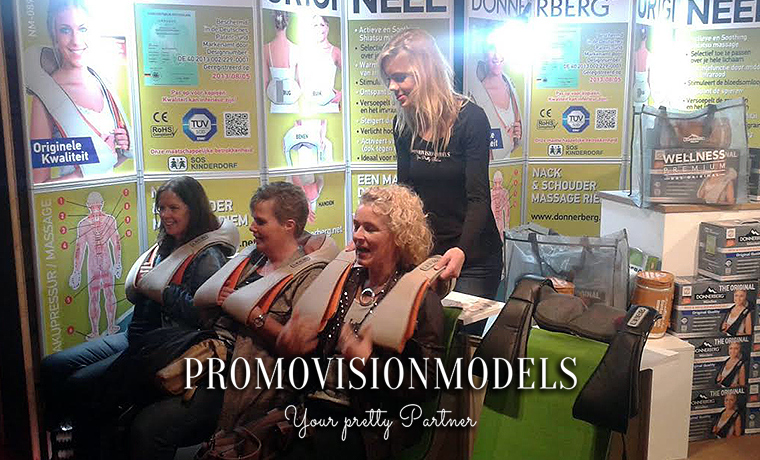 24 NOVEMBER 2016 | PromoVisionModels provided a hostess for Donnerberg massaging devices on the Margriet Winter Festival 2016 in the Jaarbeurs in Utrecht. The model supported the account managers in demonstrating the product.
MARGRIET WINTER FESTIVAL
The Margriet Winter Festival was held on the 18th through the 24th of November in the Jaarbeurs in Utrecht. The schedule of these seven says was filled to the brim. It included fashion shows, performances by artists such as Jeroen Van Der Boom and de 3Js, many fun diy-workshops and signings and meet and greets with famous Dutch authors. In short an exciting day out for the readers of Margriet Magazine.
DONNERBERG MASSAGING DEVICES
PromoVisionModels provided a promo model for Donnerberg massaging devices. The devices made by Donnerberg are from high German quality. They can be used to massage the neck, shoulders, shoulder blades, upper- and lower back, hips, legs, stomach, and feet. The devices also have an infra-red function. Infra-red rays reach deep into the tissues to relieve the tension in the muscles. The warmth helps to promote the blood flow in the area.
The product is particularly useful for people who, during their work, have to sit, stand, or drive a lot. Doing this many hours a day may cause back- and neck problems. The stand of Donnerberg was thus the perfect place to relax after taking a long stroll through the halls filled with many interesting stalls. The promo girl from PromoVisionModels attracted the visitors to the stand to try the devices by Donnerberg themselves. She showed the passer-by's how the device worked and in which ways it can be used.
The devise is easy to use and with the eight rotating heads, it feels as if a professional shiatsu masseuse is massaging your neck. Visitors are often shocked at the feeling, because they did not expect it to feel so real, but nearly all visitors stayed until the device turned itself off after the full fifteen minutes.
PRODUCT DEMONSTRATION
With the help of a short training beforehand, the promo model from PromoVisionModels knew how to give an enthusiastic demonstration to the visitors of the fair. PromoVisionModels can unburden you too by taking care of the product demonstrations on your fair or event. Are you curious for the possibilities? Contact us for further information.