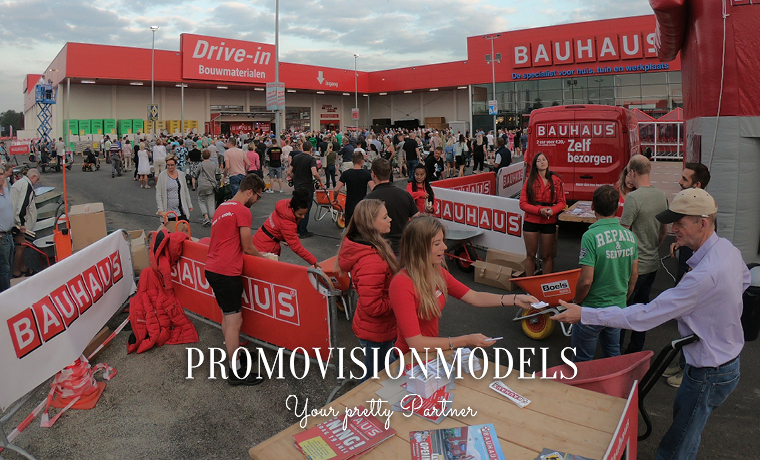 It is finally here! The opening of the Bauhaus affiliate in Venlo. On the 19th of July 2018 the brand new branch of Bauhaus opened its doors and we were present!
The opening
For a period of three weeks, our promotional boys and girls worked very hard in the area of Venlo to advertise the opening of the new Bauhaus branch. During the three weeks, Bauhaus wheelbarrows were sold for 10 euro as an opening act. These were sold on various markets surrounding Venlo. The Bauhaus stands were accompanied by an inflatable Bauhaus branch name. The mascotte of Bauhaus, Flier the Ant, joined in as well. On the 19th of July, the opening day, between 6 and 7 am, visitors who brought along a wheelbarrow had a shot at winning 1 of the 20 cheques worth a 1000 euros or many other nice prices. At precisely 7 am, already an amount of a 1000 people were waiting for the drawing of lots and at 8 am they were also the first ones to enter the new Bauhaus branch in Venlo.
Bauhaus
After having established their chain in countries such as Austria, Denmark, Spain, Turkey and Switzerland, Bauhaus is now opening branches all over the Netherlands. In 2015, Bauhaus opened their first affiliate in Groningen and two years later another one was opened in Hengelo. In July 2018, the third affiliate was opened in Venlo.
Both in Groningen as well as in Hengelo, PromoVisionModels was in charge of taking care of the promotion for the openings.
Contact
Are you interested in what we can mean for u and your event or are you in search of a promotional team? Contact us without obligation to discuss all possibilities.