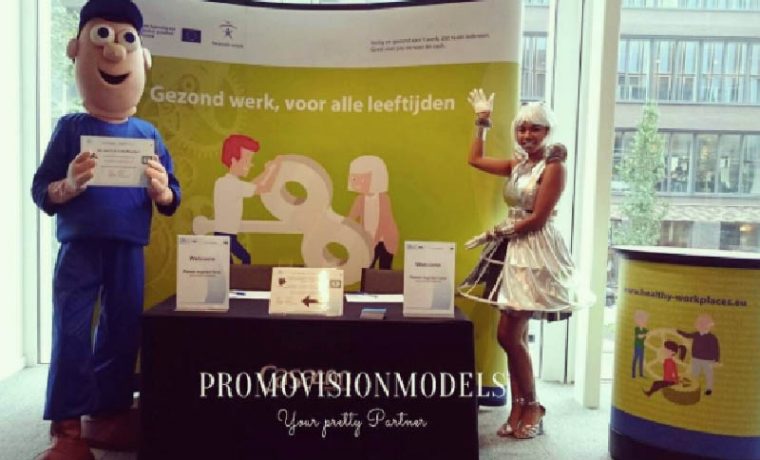 30 MAY 2016 | On Monday May 30 the European Agency for Safety and Health at Work convention took place in Amsterdam. For this meeting PromoVisionModels provided a robot hostess and a model for mascott Napo for EU-OSHA.
EU-OSHA is the agency by the European Union that gives information about safety and health at work. The goal of this gathering was to make European working places safer, healthier, and more productive. In short, with this convention EU-OSHA wants to improve the working conditions in Europe. Because PromoVisionModels is also passionate about a safe working environment, we supported this convention with our models.
Napo is an animation figure and is portrayed in his own films as a regular worker from various sectors. In his clips he is often faced with common dangers and riscs in the working sphere. Napo is the person who solves these problems in a practical way.
This was a very fun assignment for us to do, as Napo is the most important ambassador of the EU-OSHA campaigns. On important events he will appear in the flesh, this time provided by PromoVisionModels. As Napo's right hand we provided a robot hostess. The styling for the hostess was specifically designed for this event and made by PromoVisionModels. Together, Napo and the robot hostess were a good team.
Napo and the robot hostess invited the visitors of the conference to join in on a presentation and subsequently watch a film. The robot hostess helped the presenter during a Q&A-session. At the end of the meeting, Napo and the hostess collected evaluation forms. It was an international event, where solely English was spoken and the hostess worked with this splendidly. The conference was well-received and hopefully the European working environments will become safer.