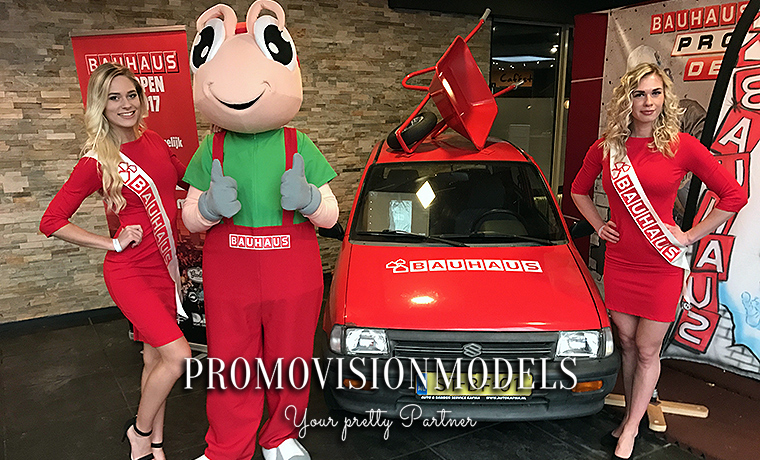 6 FEBRUARY 2017 | PromoVisionModels provided the walk-on girls and the enthusiastic mascot for the Bauhaus Dutch Open Darts 2017 in Assen.
DUTCH OPEN DARTS
The Nederlandse Darts Bond (Dutch Darts Federation) organised the Dutch Open Darts for the 44th year in a row. The event is one of Holland's biggest in the darts sport. It is an open tournament, so darts players from all federations can join; professionals and amateurs. Matches are played in the categories Women and Men, single as well as doubles, and Youth and Aspirants. As in previous years, all sorts of booths and activities are organised around the event, so that there are lots of things to do and see for the supporters as well.
THE TOURNAMENT
The Ladies Singles tournament was super exciting: defending title holder Lisa Ashton was faced in the finale by 2010 winner, Deta Hedman. The neck-and-neck race between the numbers one and two of the world ranking ended in 5-4 in legs in Deta's advantage. The gentleman's finale was just as nerve wrecking when defending champion, Martin Adams, was defeated in the eighth finals by Ross Montgomery. The former title holder of the tournament was met by Mark McGeeny, the former doubles champion, in the finale. This match ended in a 3-1 siege for Mark, his first singles title in the Dutch Open Darts.
WALK-ON GIRLS AND BAUHAUS MASCOT
True to the British tradition, the walk-on girls had to be present at this Dutch tournament as well. Two gorgeous ladies accompanied the players in the final rounds to the big centre stage. Between the multiple finales, the enthusiastic mascot ant from Bauhaus entertained the crowd in the commercial breaks. During the preliminaries, the girls were active in the public area, where the visitors could take photos with them and they handed out free Bauhaus Dutch Open Darts flights. The models were professionally styled in beautiful dresses in the red company colour from Bauhaus and luxurious sashes with the Bauhaus logo.
EXPOSURE
The Dutch Open Darts provided a lot of media exposure for the new sponsor of the event, Bauhaus. Apart from the many visitors at the event itself, the Dutch Open Darts were broadcasted live on RTV Drenthe. Additionally Dutch newspaper Metro XL covered the matches and of course a full account of the event was put on www.dartfreakz.nl. Also on social media, there was a lot of attention for the sports event. Many visitors shared their pictures with the walk-on girls on social media, like Facebook and Instagram and the event hall that hosted the games, De Bonte Wever, put up a video of the dancing mascot on their Twitter page. Are you looking for more exposure for your business? We love to help you set up your own events. Contact us for a non-committal appointment.