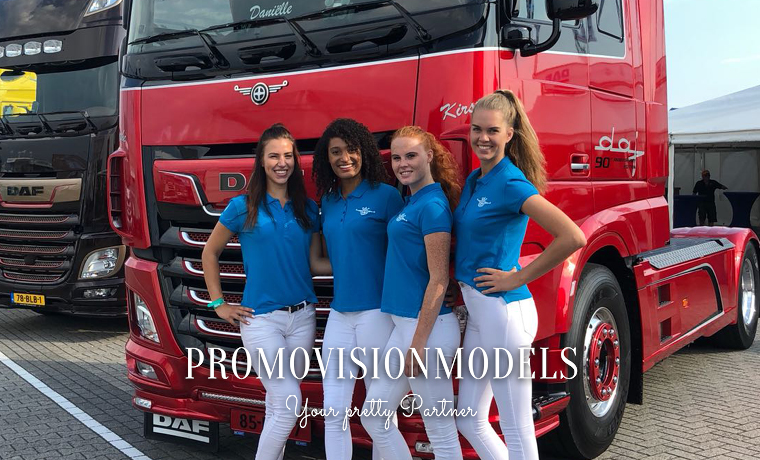 On 28 and 29 July the PromoVisionModels promoids were at the Truckstar festival on the TT circuit in Assen.
Truckstar festival
Every year, truck enthusiasts from all over the world visit the TT circuit in Assen during the Truckstar festival. More than 2000 trucks are spread over the entire circuit and over 50,000 visitors go out to admire these trucks. There is plenty to do on both days. There are demonstrations and shows on the track, there is a caravan race and there is the award ceremony for the most beautiful truck of the year.
PromoVisionModels at Truckstar festival
Our girls were present at this event for the 4th time and were working at the DAF Trucks N.V. stand. During these two days the PVM girls took care of the bar and distributed nice goodies to the guests. DAF had a competition for the visitors of the DAF stand a few times a day and the promogirls handed over the prizes to the lucky winners. Furthermore, the promogirls ensured that the guests of the DAF trucks stand had a good time.
DAF
DAF Trucks N.V. is a wholly owned subsidiary of the American PACCAR Inc. With its core activities DAF Trucks N.V. concentrates on the development, production, marketing, sales and service of medium and heavy company vehicles.
Contact
Do you also want to make use of the PromoVisionModels promotion team? Contact us to discuss the possibilities.