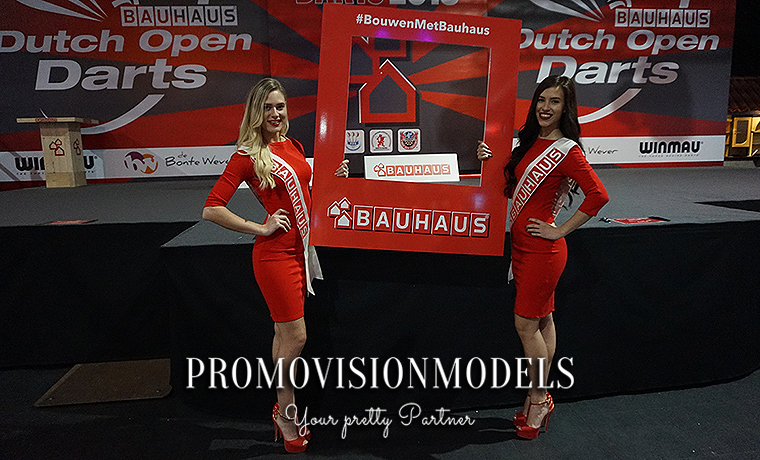 Our walk-on girls were working for BAUHAUS during the dutch open darts. The Walk-on girls of PromoVisionModels walked together with the darters to the podium and handed out Dutch Open Darts flights to the visitors.
Dutch Open Darts
The Dutch Open Darts is a darts tournament. This year the 40th edition was organized at De Bonte Wever in Assen from Friday 2 to Sunday 4 February. At the Dutch Open Darts there are four components, men's and women's individual and men's and women's doubles. Since 2014 the Dutch Open Darts has been held in De Bonte Wever in Assen. Before it was organized in De Bonte Wever in Slagharen.
Activities
A walk-on girl is a girl who walks with the darter to the stage. PromoVisionModels provided the walk-on girls at the Dutch Open darts for BAUHAUS. BAUHAUS is the main sponsor of the Dutch Open Darts. Besides the walk-on girls, PromoVisionModels also provided the Kids Club of BAUHAUS and a promo-team.
Contact
Are you curious about all possibilities? Please contact PromoVisionModels without obligation. We always try to make your event a success in a fun and original way!