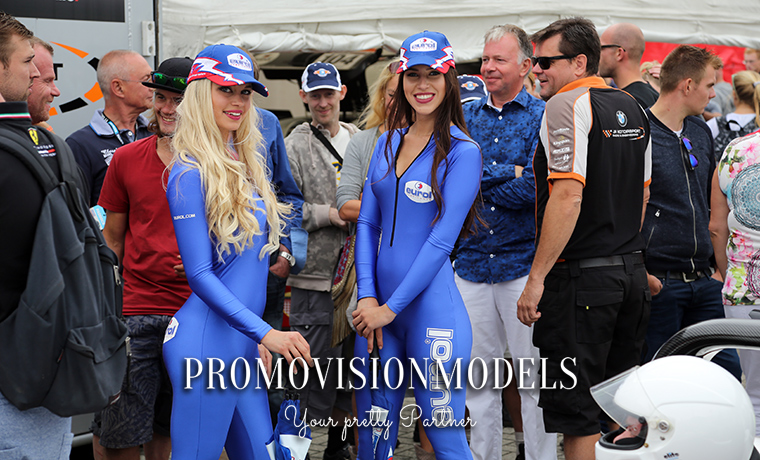 8 AUGUST 2016 | The biggest combined car, motor and kart race event in Europe, organized by Gamma, returned to the TT-circuit in Assen this year, Gamma Racing Day! This wonderful event on the for many race sports fans holy bit of asphalt was free to access. PromoVisionModels was there and strengthened the presence of various teams with some gorgeous paddock girls.
Just like last year, this 2016 edition of Gamma Racing Day was a great success. With demonstrations by old F1 driver Mika Häkkinen and MotoGP racer Dani Pedrosa the public's interest was high again. An estimated 92.000 people came to Assen to experience this event. Hence it was hard work for the PromoVisionModels paddock girls.
For Eurol PromoVisionModels provided two beautiful paddock girls. The ladies were very popular among the visitors and soon a line formed to get a photo with the Eurol models. Apart from their presence on the paddock, the Eurol girls were also easily visible on the grid as grid girls for Rob Kamphues.
Additionally PromoVisionModels provided the paddock girls for Maxxis and Novex at the stand of Tim Coronel. We know Coronel from his splendid performance in the Dakar Rally, for which Maxxis is his tyre sponsor, but also from road racing, for which Novex sponsors his tyres. It was incredibly busy at the stand of this Dutch race hero, where the models assisted at signings, made photo's with the public, and gave away goodies.